John Glenn Astronomy Park
---
The John Glenn Astronomy Park brochure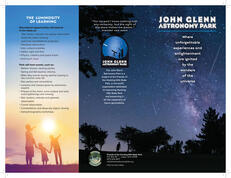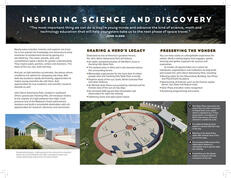 To view the brochure full size in PDF form click HERE.
The Friends of Hocking Hills State Park is pleased to announce that Brad Hoehne has been named the Astronomy Park's director. Brad has created the John Glenn Astronomy Park website where you can learn more about him and the park's mission. You will also find information about the programs that will take place at the park. How to become a Park volunteer. And information on making a Tax Deductible donation to the Park.
The John Glenn Astronomy Park Fund was created in 2016 to support the Friends of Hocking Hills State Park in constructing and supporting an educational, recreational and research-oriented astronomy center at Hocking Hills State Park.
We are thrilled to report that donations for this project have now topped the $1 million mark, and that construction has begun on the facility. We continue to actively work towards the goal of bringing this one-of-a kind facility to the Hocking Hills State Park, with construction expected to be finished by the end of 2017. To accomplish that goal, it will take $1.6 million, so we still need to raise $400,000.00.
So, your help is needed to reach those goals. Please click here to go to the John Glenn Astronomy Park Fund page on the Foundation For Appalachian Ohio to find out how you can help us reach this goal by the end of 2017. All gifts to the Fiends Of Hocking Hills State Park, including those to the John Glenn Astronomy Park Fund, are tax deductible. You may also make an online donation directly through our website simply by clicking here. Under I would like to make a contribution to: choose Astronomy Education Center, then choose the amount you would like to donate from the drop-down list. Or enter your own amount in the Other Amount box.
Click HERE to view an animated video (on YouTube) for more information about the project.
The John Glenn Astronomy Park has a Facebook page. To visit the page Click Here. When you get there please click the "Like" button. Then invite your friends to like the page as well.
WBNS 10TV in Columbus, Ohio did a report on the progress so far on the construction of the Astronomy Park on Monday, 11/13/2017. Click this link https://www.10tv.com/article/john-glenn-astronomy-park-opening-delayed-until-2018 to see a video of the report or read a text version of it.
In the wake of the passing of Senator John Glenn on December 8, 2016, this project has gained local and national attention. View a sampling by clicking on the links below:
WOSU public media "In Memory Of John Glenn Astronomy Park takes shape"
The Columbus Dispatch "Hocking Hills observatory planned to counter light pollution."
The Washington Times "Observatory named for John Glenn proposed at Ohio state park"
The Intelligencer Wheeling News-Register "Hocking Hills Launches Phase 2 Of John Glenn Astronomy Park"
The illustrations below were created by M+A Architects, in Columbus, Ohio.
Learn more about them at www.ma-architects.com.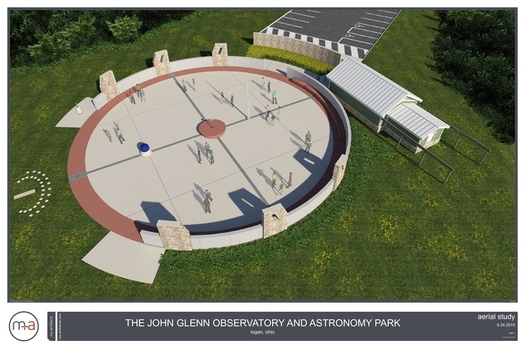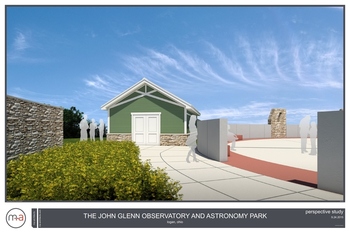 Latest News
All News Items »