Friends of the Hocking Hills State Park
Maple Sugaring in the Hills
Come and join the naturalists and park volunteers for the first taste of spring. We will take a close look at the history and production of this important natural sweetener.
March 8 & 9, 2014 - Tours are from 12 noon to 4 PM each day.
Can't wait for that taste? Join Chef Matt up at the Hocking Hills Dining Lodge for the annual pancake breakfast starting at 8 AM each day. $8 for the pancake breakfast, everything included.
---
About Our Parks
Perhaps no other area in the state of Ohio is as wild, romantic and picturesque as Hocking Hills State Park. In the parks you will discover amazingly massive sandstone outcroppings, deep cool gorges, towering hemlocks and glistening waterfalls that characterize the Hocking region. Abundant wildlife including white-tailed deer, barred owls, ruffed grouse and an occasional bobcat make the wooded ravines and ridge tops their home. In spring, the early morning hours come alive with the gobble of the wild turkey. The lush undergrowth contains a profusion of ferns, shrubs and wildflowers including roundleaf catchfly, lady's slipper orchids, devils walking stick and sullivantia that are some of the state's rarest and most unusual plants.
Learn More »
Donate to FFHSP
Sign-up to receive Friendly Updates our e-Newsletter
---

---
Supporting Hocking Hills Since 2003
Read More...
---
Volunteer in the Hocking Hills
Find Opportunities...
---
Visit our Business Partners
Find Member Discounts...
---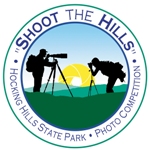 April 25-27, 2014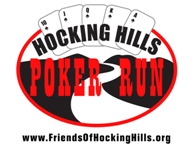 May 17, 2014
and
October 4, 2014
Latest News
02/15/2014
Registration now open!
Complete Story »
11/23/2013
Todd and Miriam Poling receive Friend of the Year Award. Ohio State Parks Assistant Cheif Jon Dobney praised the group for its accomplishments. Mac Albin, Franklin County Metro Parks shared the water life and more of Clear Creek Metro Park.
Complete Story »
11/07/2013
10th Anniversary Annual Meeting & Dinner
Complete Story »
All News Items »