The John Glenn Astronomy Park
Coming Closer to Reality
---
Exciting news! Thanks to the generous donations of astronomy enthusiasts nationwide, we have secured over 60% of the funds needed to construct this facility, and we are planning to begin construction in Spring 2017. This facility will be a huge addition to the Hocking Hills State Park, and and it's being done without state funds or fees to those who will use it when it's completed. However, we need your help to bring the dream home.
You can do this by clicking here (a new window/tab will open.) Which will take you to the John Glenn Astronomy Park Fund page on the Foundation For Appalachian Ohio website. Once there you can read about the Fund, and learn how to make a donation online or through the mail.
You may also make an online donation to the John Glenn Astronomy Park project through this website, simply by clicking here. Under I would like to make a contribution to: choose Astronomy Education Center, then choose the amount you would like to donate from the drop-down list, or enter your own amount in the Other Amount box.
More information on this project can be found by clicking on the Astronomy Park tab at the top of this page.
The illustrations below were created by m+a architects, in Columbus, Ohio.
Learn more about them at www.ma-architects.com.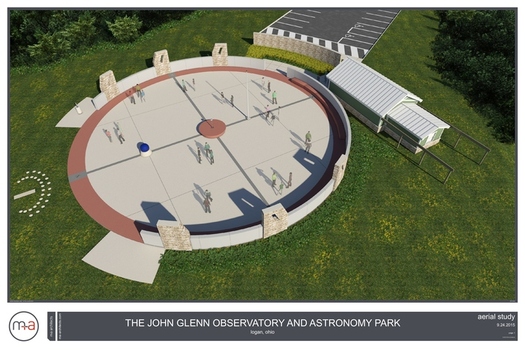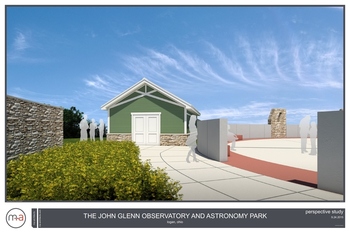 Hocking Hills Dining Lodge Employee Fire Relief Fund Update
---
Thanks to the generosity and compassion of the wonderful people and businesses of the Hocking Hills region of Ohio, we have been able to raise over $30,000.00 for the 24 employees and their family members of the Hocking Hills Dining Lodge, which was destroyed by a horrible fire on December 8, 2016.
The first $21,000.00 of this total was raised in just 8 days, and on December 17, 2016, FHHSP board members presented the management the Dining Lodge with ta holiday care package of a check and gift cards for each employee, and toys for the employees' children.
This outpouring of support would not have been possible without the support of the Hocking Hills Tourism Association, the Logan Kiwanis Club, the Logan Kroger grocery store, Camp Oty'Okwa/Big Brothers Big Sisters of Central Ohio, and many others.



---
About Our Parks
Perhaps no other area in the state of Ohio is as wild, romantic and picturesque as Hocking Hills State Park. In the parks you will discover amazingly massive sandstone outcroppings, deep cool gorges, towering hemlocks and glistening waterfalls that characterize the Hocking region. Abundant wildlife including white-tailed deer, barred owls, ruffed grouse and an occasional bobcat make the wooded ravines and ridge tops their home. In spring, the early morning hours come alive with the gobble of the wild turkey. The lush undergrowth contains a profusion of ferns, shrubs and wildflowers including roundleaf catchfly, lady's slipper orchids, devils walking stick and sullivantia that are some of the state's rarest and most unusual plants.
Learn More »